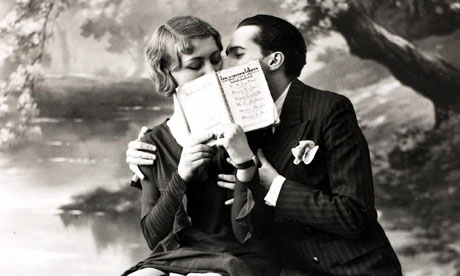 Okay, since today is Valentine's Day, we here in PW decided it would be in the readers' interest _ see, we care!! _ to pursue the difficult task of finding the all time greatest love affair, portrayed in books or movies!
You know those outrageously romantic couples that make our hearts go all "pitty-pat" O_O when we imagine all the feelings and the immensity of their love!
Like Rhett Butler and Scarlett O' Hara, Peeta and Katniss, Mr. Darcy and Miss Elizabeth Bennett, Tom and Jerry, and most importantly...
Kermit and Miss Piggy!
Two star crossed lovers divided by mother nature, different feeding habits, aversion and yes, BACON!
A very controversial question... where does love stand... when you're hungry! o_O
Miss Piggy (left), Kermit (right)
Let's remember, shall we, what the couple says about their relationship:
According to Miss Piggy:
She explains that she and Kermit keep the controversy of their marriage going in interviews because so many lust after her. According to Piggy, they have agreed to say that they are not married in public, but in private, they are very happy together.

(1)
Kermit on the other hand:
Claims that "the things that the pig says" aren't true. Kermit is even disgusted by the idea of a blossoming romance, although he states he's not against inter-species dating

(2)
But then, on a shocking revelation, Miss Piggy tells us that:
When asked about their relationship, Piggy decides that they go their separate lives as a male frog and a female pig. She makes a confession -- she moved Kermit's underwear to her stocking dress.

(3)
While Kermit on a heartbreaking revelation:
Kermit said his doctor told him that it's wise to avoid dating red meat.

(4)
But then, hearts be still, breaths... hold up a little in there, okay, because, finally the couple admits their long... long love:
Piggy says they're very much in love and Kermit says "yeah, yeah, we are, I have to admit it."

(5)
Aw! Aren't they sweet in their obsessive, stalkerish, indifferent to one another, romantic way? ;)
Hope this warmed our readers' hearts _ please don't go away! _ in this very special romantic _ commercial _ day!
Happy Valentines Day!!
;)