2015 wasn't my best year reading wise.
I read a lot of one stars, two stars stories and that definitely took its toll on my concentration. I don't think I ever went through as many reading slumps as I did this year.
However I did read some pretty awesome books. Not many, but the ones I loved they managed to be unforgettable.
So, can I point a single book as my favourite this year?
I can. I can say without any doubt that every time I try to come out with a choice, that title has never changed. So without further delays, here's my 2015 favourite book:
Presenting author Sarah Macguire début novel,
Valiant
.
Valiant is a retelling of "The Brave Little Tailor" and it was my first contact with this fairy tale. Suffice to say that I loved it. I am only sorry that I don't have a bigger projection as a blogger, so that I could have a bigger audience to whom I could share with my love for this story.
When most of the arcs that I read this year _ the more known and acclaimed ones _ proven to be not worth of my time, this is a story that deserved a greater spotlight.
From my review:
"Full of adventure, heartbreak, and just the right dose of romance, this is a tale that will probably be better appreciated by the YA and adult readers... or so says the adult who loved it. :)"
Then in a complete different genre:
Horror and Dystopia
"Please Remain Calm (This is Not a Test #2)
" by author Courtney Summers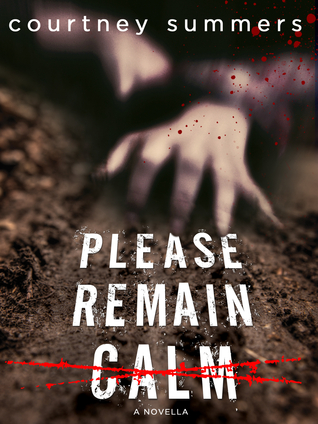 "This is Not a Test"
has to be one of my all time favourite books: The characters, the feelings, the whole intensity of the story is pretty much embedded in my brain. So when the sequel came out, I was part excited, part scared, because let's be honest, sequels can be a tough cookie... unless we're talking about this author.
"Nerve wrecking and heartbreaking, this story won't leave you indifferent." (moi)
Most Promising Series (started in 2015)
Well hands out _ after going through a period in which I mostly only read UF _ I was won over by Laura Florand's "La Vie en Rose" series. One third of sweetness_ but never idiotic _, one third of unquestionable romance, with one third of humour, this contemporary series has me head over heels.
For feel good, smile on your lips kind of read, please try the following receipts I mean volumes ;)
"As you can see this was a sweet _with bits of insane to it _ romance with likeable characters and laughing out loud dialogues as only the author knows out to do." ( From my review of The Chocolate Rose- La Vie en Rose Prequel)
"She stole his roses" While I condemn rose theft _lol _ this actually sounds good! ( Once Upon a Rose)
"Yes, this a Grinch approved series! (Yes, I'm the Grinch. I'm the bookish Grinch -_-) -from A Wish Upon Jasmine
Contemporary Romance (stand-alone...)
"The One in My Heart" by author Sherry Thomas
Now, colour me surprised! It wasn't as if the author hasn't accustomed her
readers to occasional incursions in other literary genres, but, there is always a
big doubt hanging over our minds: Will she make it work? Will it be a disaster?
______ o_O
Of course that it was a success!
"
I am so, so happy for you Bennett. I never felt like hitting you in the head with a heavy object!:D
So refreshing." ( From my arc review)
New Adult Category
Well, surprise, surprise, I loved two stories that fall into the New Adult category this year. One was released this year, the other a little longer, but who cares right?
"Bottom line, a wonderful coming of age story filled with heartbreak, but also filled with hope and love.
What can I say?
It made bitter old me love it..."
( From my Review...)
"I loved the fact that the author didn't use the same old clichés to represent college life ( well, at least the college life that is mainly represented in YA books).
There's no slut shaming.
No over-abundance of angst.
We get a main character who feels real: someone that doesn't forget her friends, or her work just because she finds someone she likes.
There's a friendship relationship that is just as important as the romance.
The romance between Jack and Hadley was sweet, cute and hot. Their chemistry was off the charts."
(Excerpt from my review)
Favourite Historical Romance
What can I say?
I didn't have much luck with historical romance this year considering the sheer amount of stories I read.
However I did came across two stories (maybe three) that made it all worth while.
In the first position comes a story of a romance... and lobsters!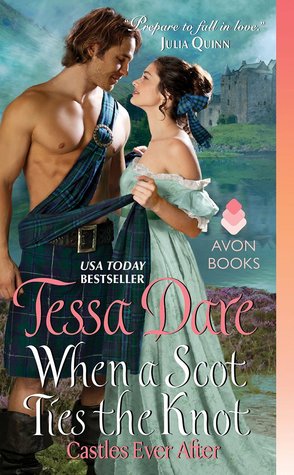 "But then one day this Highlander dude appears at her door claiming to be her fiancée.
Her dead fiancée.
Maddie is obviously stressed about it, because, hello?

DUDE, YOU DO NOT EXIST!
What follows next is just as crazy as you'd expect in a Tessa Dare novel."
( Excerpt Review from When a Scot Ties the Knot)
A romance between characters with disabilities who make due with what they
have... while falling in love:
"The guy isn't overbearing _much _ and he does take into account Phoebe's needs. Which makes him a decent and sweet human being.
Like Phoebe he also has a physical disability although of a very different nature: She is blind and he has a problem with one of his legs.
Neither of them dwell into fits of self pity: they make the best they can with what they've got." ( Excerpt from my Review of the arc)
Comics
I normally don't read comics. Not because I don't like them, but mostly because the occasion doesn't appear. Reading/seeing this one made me realize what I have been missing.
" The following images contain extreme doses of cuteness, wit and wisdom.

If you're on a strict regime of daily laughs, we warn you that it will most likely be destroyed. ;)

Contains:

Adorable animals;

Friendship;

Strong family bonds;

200% of your recommended daily dose of laughs."
(Excerpt from my Review..)
Urban Fantasy
That's right: my choice for favourite urban fantasy book is going to be the ya
story "Crossed". Why?
Because it has an amazing set of characters.
Because it has one amazing story.
And because the author managed to surprise the hell out of me!:D
"Meda continues to be her own self, which Is great. There's nothing I hate more than multiple personality issues in a series that I'm following. She's arrogant, borderline psychopath, except when it comes to her friends. And in this one, her friends are going be her Achilles heel. Ahaha, payback is a bitch."
Historical Fiction Category
Released in 2014, but only read during this year
"The girls at the Kingfisher Club" is a haunting story that takes place during the depression, and one who is vaguely inspired in the "Twelve Dancing Princesses". Genevieve Valentine may have removed the dark magic that surrounds the girls in the original fairy tale, but instead she gives them a very dark real life among psychical and psychological violence.
Middle Grade Category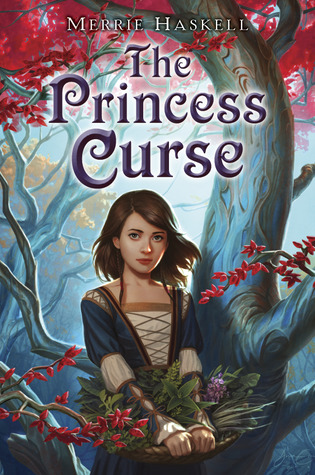 Released in 2011, and in my possession since last year _ too many books _ it was only during this year that I had a chance to start reading this book, and let me tell you that I loved it!
So, if you think that the cover is just too juvenile _ which I agree _ just ignore it, and get ready to read a great story.
"4.5 stars... that will turn into a five star rating, once I have the sequel in my hands...
That is not to say that this ends with a cliffhanger. No, the story in this book is mostly properly resolved, especially the part about "The twelve dancing Princesses" retelling.
As for "Beauty and the Beast"?
We only get about two thirds of it, and having loved this story _ and its characters _ of course I want something more."
And now to finish this post, there's this book. I read it as an arc provided by Egmont USA in January, and as you can see by the rating, this was pretty much a winner...
...Well, imagine my surprise when I found that that this book was no longer being published by the now extinct Egmont...
You, Idiots!
Well anyway, I do hope that the author manages to find another publisher, and that this story of a very resourceful ghost will end up getting a second chance.
"A delightful, fast paced and quirky adventure who happens to feature a sharp witted ghost as its main character." ( Excerpt from my review)
What about you guys? What were your favourite books of 2015?